Many in our region will already know the delights of Long Paddock Cheese, having visited the pop-up shop window that appeared at The Mill Castlemaine in November 2020…and word has definitely got around about the delicious products on offer.
After a huge effort from a small, passionate and dedicated team, Long Paddock Cheese has finally been able to open up in its permanent home at the Mill – making it all the easier to get Long Paddock Cheese to your plate. The shop is a wonderland for dairy lovers, with a number of different artisan cheeses available, as well as fresh dairy such as milk and butter.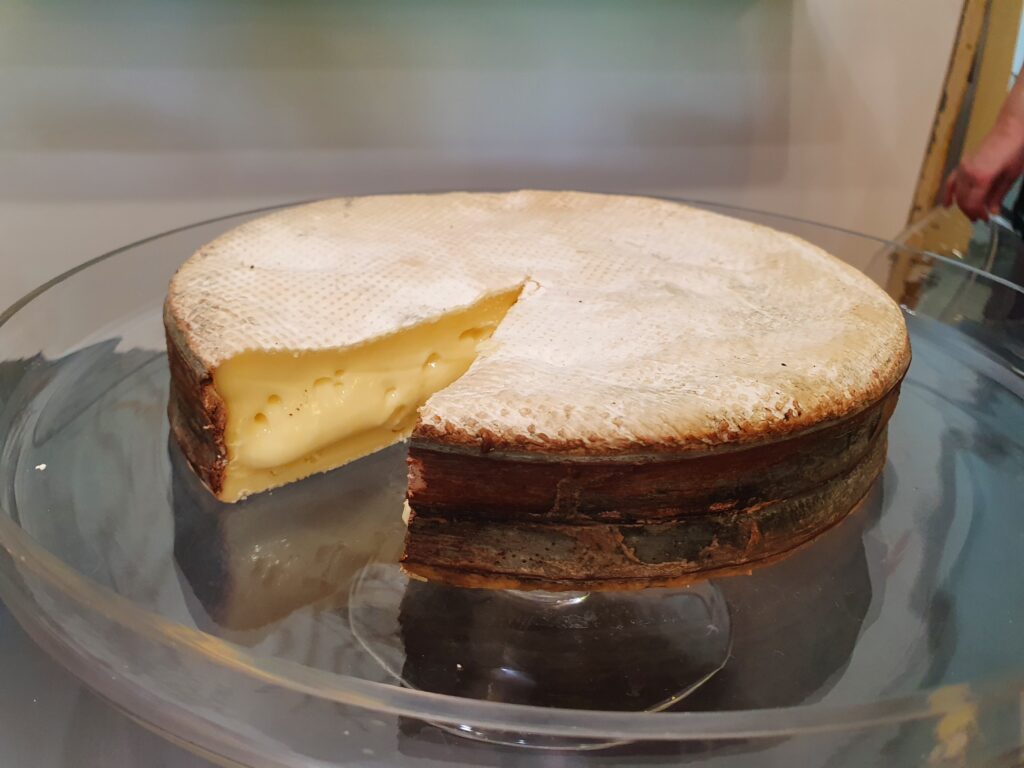 Despite a few hiccups (global pandemic not withstanding) along the way – and a change of plan about where in the Mill complex the shop would be located – there are smiles all round in the new store, an elegant and minimalist space where cheese is very much the star attraction. When I visit there is a beautiful wheel of 'Driftwood' gently oozing on a stand, looking like the perfect cheese cake and eliciting excited responses from those participating in a little tasting.
But wait, there's still more!
While we distract ourselves by exploring fresh lactic cheeses enhanced by Australian native flavours, or add soft bloomy delights to our cheeseboards, plenty more is going on behind the scenes; in the factory, maturing rooms and of course the classroom. There's now not long to wait until The Cheese School rounds out the experience – offering the opportunity for both beginners and experts to hone their artisan skills and make everything from yoghurt to cheese. Classes are due to start in March, and the Cheese School will offer professional artisan cheesemaking and other dairy training, a range of small-scale business-related training, as well as training for cheesemongers, regulators, home cheesemakers and cheese lovers.
The first course offered will be for those in the process of becoming professional cheesemakers, with beginners' – or home cheese making – classes to be held in April, May and June. For those not wanting to get too hands-on, there are also cheese and beverage matching and appreciation classes planned, as well as a mid-Winter outdoor event featuring the all-important fondue. Keep up to date with all the news via Long Paddock and the Cheese School socials, or drop into the shop and have a chat!
You'll find Long Paddock's shop right next door to the delectable Cabosse and Feve, where fine artisan chocolate is made on-site and there's truly something for all tastes – from Rocky Road to vegan treats. This family-run business uses traceable swiss couverture chocolate (meaning that farmers are paid well above Fairtrade wages) and visitors can watch the products being crafted right before their eyes.
Within a matter of a few steps in this diverse gastronomic precinct you can enjoy a locally roasted coffee, cool down with a creatively flavoured ice cream, stock up on cheese and milk, go wild in the chocolate shop, wander over to the micro-brewery for a beer, drop by the bakery for a sourdough loaf, eat it with smallgoods made by a German fleischermeister, maybe pick up some organic fruit and veg to balance it all out, and then recover with a beautiful glass of local wine, a wine tasting or an explore of the creative and vintage offerings in the adjacent buildings.
It's hard to imagine you could fit more in, but it's always worth a try…and maybe after a walk at the botanic gardens over the road you could go for a second round, or carry on across the region, tripping over culinary gold at every turn.
Words by Anna Knight