A guest post from Masons of Bendigo
There's nothing tastier than seasonal, freshly harvested produce direct from the grower. Bendigo has a growing list of local producers who are working tirelessly to produce the goods; let's support them!
Now's a super delicious time of year within our region; think tomatoes, beans, strawberries, lettuce, sweetcorn, zucchini and more.
So, who's growing great stuff in Bendigo right now?
Based out in Strathfieldsaye, local young guns Jess and Jeremy White are growing an abundance of chemical-free seasonal vegetables and herbs for us to enjoy. They've recently planted an array of fruit trees and Indigenous edibles in order to provide a greater variety in their seasonal boxes; watch this space!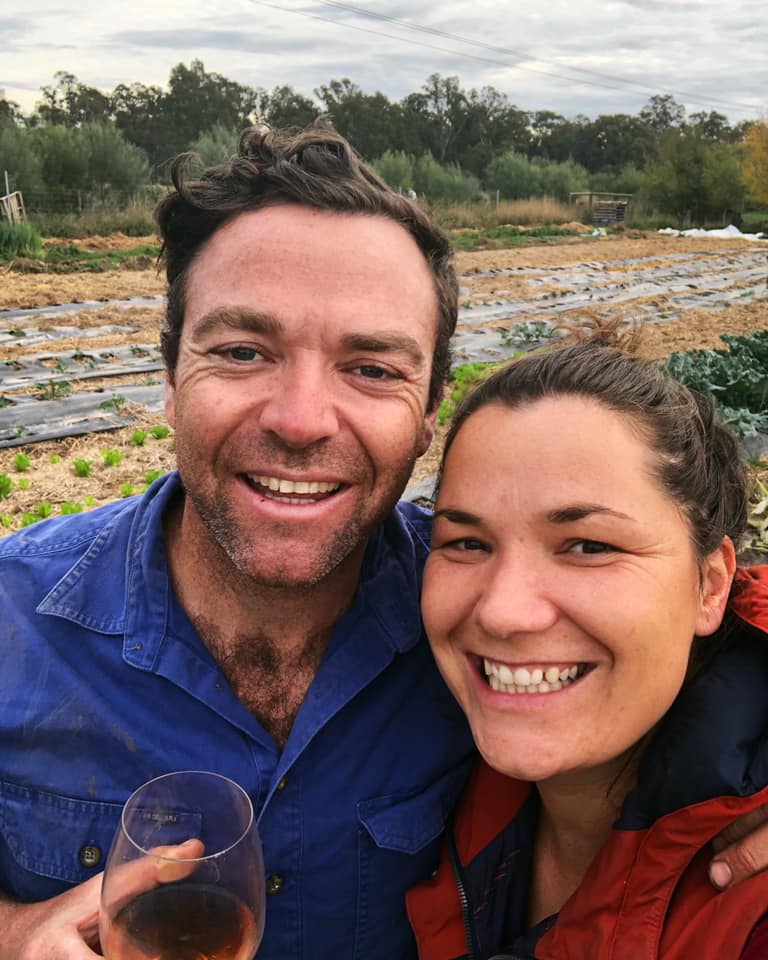 They offer weekly and fortnightly veg boxes in Summer/Autumn and Winter/Spring and are available as a 16-20 week season. The next season will begin in January and if last year is to go by, make sure you book your veg box spot as they are becoming increasingly popular!
What you may find in your Summer veg box: squash, zucchini, tomatoes, capsicum, eggplant, corn, green beans, cucumber, chilli, lettuce, spring onion, silverbeet, lemons, garlic, pumpkin, various fresh herbs.
If you live in Bendigo, delivery is an option or a selected drop off spot centrally – best to confirm delivery options with Jess at the time of ordering. Pay up-front or pay upon delivery/pickup by cash or direct deposit.
They've recently launched a website so getting in touch and ordering is super easy. Find it here: www.goldengumsfarm.com.au
They have a closed Facebook group page for those who have subscribed to their boxes. It's a fabulous way to connect with the people who grow your food, who enjoy the food and pick up some seasonal recipe inspiration along the way.
You can contact Jess by phone or email HERE
Do you like the idea of pick-your-own? It's a great way to teach your kids how fruits and vegetables grow and it doesn't get any fresher than that! If you're not so keen on getting your hands dirty, there is a produce shop with an abundance of goodies from the garden to purchase as well as other locally produced pickles, preserves and handmade crafts.
Pop in now to pick and enjoy organic strawberries which have the most incredible flavour! Garlic has also been harvested and looking for homes.
In a few weeks' time, pop into Peppergreen Farm to pick corn, beans, eggplant, rhubarb and tomatoes.
Whilst you're there, admire the artwork on display as part of the 'Access Creative Studios Art Exhibition' which hosts its exhibition opening on the 24th November. Artwork is also available to purchase. For more information on the exhibition, please email kerri.hicks@aag.org.au
Peppergreen Farm is open Monday – Friday, 9am – 4pm.
The farm is located at 40 – 44 Thunder Street, North Bendigo, phone 5445 9888
New Zealand's loss is our gain! We welcome Jordan and Emma to Bendigo; the young superstars who now call Huntly home. They began growing last year in 2019 and have been providing our community with freshly harvested organic produce with their harvest list growing each season.
They aim to preserve and nurture the environment and our health, providing us with the highest quality produce. They only use natural fertilisers and naturally made sprays are only used as a last resort. Their focus is on preventative measures when managing pests and diseases; that deserves a five-star rating in my book.
By continually improving soil health, their produce sings with colour and flavour.
You will find Jordan and Emma each week at the Castlemaine and Bendigo Farmers' Markets.
They grow an incredible array of mixed salad leaves – BYO container to the market to reduce your wastage – calculated by the kilo, it's a fabulous, easy to prepare meal during the warmer Summer months.
They also have an online ordering option via their website
Or you can contact Jordan directly HERE
You'll find them at:
Castlemaine Farmers Market – every Wednesday and the 1st Sunday of each month at Western Reserve, Forest Street.
Bendigo Community Farmers' Market – every Thursday at The Good Loaf Sourdough Bakery & Café and the 2nd Saturday of each month at the Bendigo Pony Club, corner Breen Street & Belle Vue Road, Golden Square.
There's also a Bendigo Christmas Twilight market running on the 22nd December from 3pm – 7pm at The Good Loaf Sourdough Bakery & Café which is the perfect time to stock up on fresh produce for your Christmas table.
Brian Hosking is a familiar face around Bendigo. This legendary third-generation food gardener has inspired students for over 12 years to grow their own food within a school garden program at Violet Street and Eaglehawk Primary schools.
He designed and established the Gravel Hill Community Garden back in 1999. Twenty-one years on our diners, and the greater community, are enjoying the produce which is grown in this community garden; how cool is that!
Brian has now established his own food garden in Axedale which he nurtures with Jonas Hosking and Frida Petrie. They use regenerative and permaculture principles which is puts nature and the care and respect for the soils and environment at the forefront. It's an absolute thrill to see that Brian is now offering his produce to our community!
They are offering Kitchen Garden Boxes with include 7-10 varieties of seasonal produce in each box. You can order a subscription where you pay up front for 13 weeks' worth of veg (total payment is 10 weeks' worth so you are getting three weeks of bonus veg, with added benefits) or one-off boxes. There are also pasture raised eggs available to purchase.
For Bendigo residents, delivery is available – and if you live further afield Sugarloaf Ridge are happy to discuss options! Check out the FAQs here.