If you've been walking through the Bendigo CBD lately, you might have spied some friendly students in bright red shirts engaged in activities like arranging milk crate furniture, drawing large and cheery chalk images, and interacting with businesses and passers-by.
These students are part of an innovative course being run out of LaTrobe University called CityStudio, which brings together multidisciplinary students to work with our local council and the community on projects to make Bendigo a more sustainable, liveable and joyful place.
This year the students have been working with the City of Greater Bendigo to co-create responses to COVID-19, exploring the question of 'Dining Differently: What are the ingredients for a post-COVID recovery?'. This is no mean feat! There are a dizzying range of issues to consider, such as placemaking and public spaces, urban revitalisation and entrepreneurship, public health and wellbeing, inclusivity and access, smart cities and Bendigo as a UNESCO City of Gastronomy.
With the ultimate goal of expanding outdoor dining possibilities and revitalising urban spaces, the students have developed and tested some experimental projects to engage local businesses and community.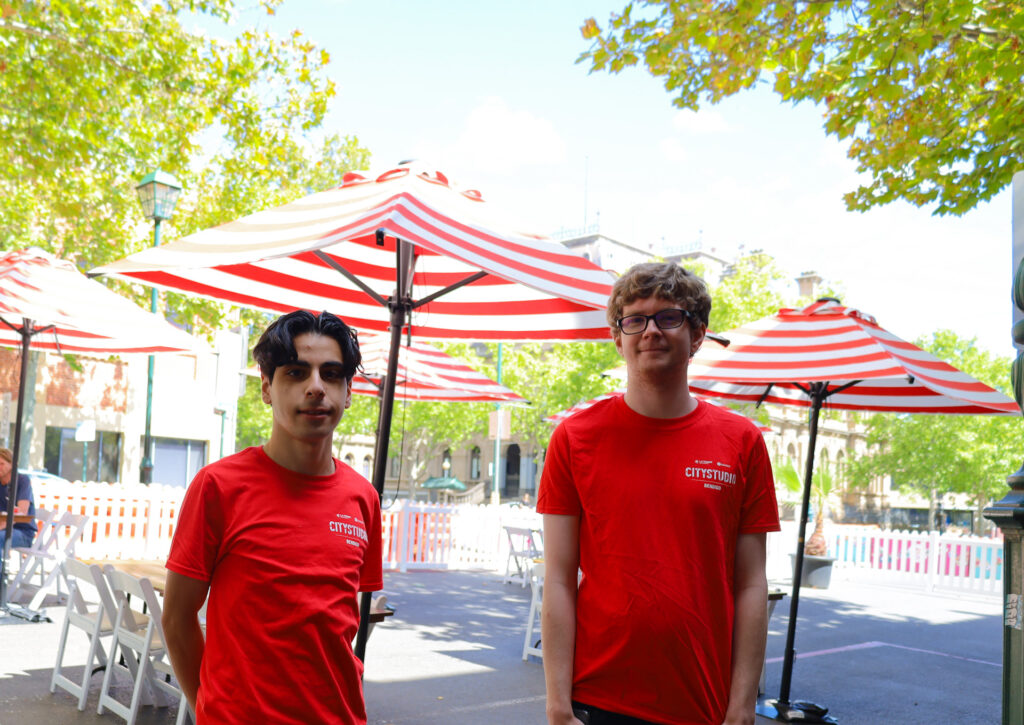 One of the areas that students are involved in is Bendigo's Bull Street, which has had temporary road closures to accommodate additional outdoor dining over the last 12 months. Students have come up with three potential futures for the space:
Return the road to how it was, losing the newly established outdoor dining.
Reopen the road, whilst permanently sacrificing some parking to maintain extended outdoor dining spaces.
Permanently adopt the current changes, including the road closure.
From consulting with different types of businesses, the City of Greater Bendigo council and the community, the students believe the second option would provide the best solution. Artist interpretations of the three plans have been drawn up and the students have tested their ideas with passers-by.
Another area the students have turned their attention to is Lyttleton Terrace, which boasts a whopping fourteen food businesses, earning its moniker "Lyttle Eat Street" – a title/brand that the Citystudio students and businesses are working on together. You can find a baker, a butcher, an Asian grocery and greengrocer, an organic greengrocer, a Thai restaurant, a kitchen garden & nursery, a quirky café with a van inside, a chicken and beer bar, a Turkish takeaway, a takeaway and catering café… and much more!
What is missing from the area is a sense of place, and somewhere for take-away patrons and shoppers to hang out. As a result, despite the bustling businesses, the area often looks empty.
With a budget of merely $100 these inventive students have done some experimental place making, using chalk, reclaimed milk pallets, crates and cushions to create a comfortable, colourful and friendly seating area.
CityStudio is a great example of how creative thinking can help reimagine city spaces, and bring vibrancy to our streets and footpaths. These students showed that bringing together different backgrounds and disciplines can be a great way to think outside the (town) square – and that when it comes to food and where/how it should be eaten, everyone is keen to get involved!
Words by Diantha Vess