When Tim Sproal first started making wine, it was in the self-professed "garage-style" of winemaking. "I started with two mates, bought a second-hand milk vat and a tonne of grapes," Tim says. "It was a scrappy set up, but I was hooked from the beginning. I quickly saw a model where if you have a few people coming together and sharing equipment and space, it's much easier for a young producer."
Tim is a winemaker and owner of Boomtown Wine, a cooperative in Castlemaine. For Tim, running a winemaking cooperative is a no-brainer. "The model is that young winemakers can come in and get a start in the industry," he says. "I've got all the equipment they need and they can make their first wines in good conditions and we all learn a lot."
The idea of collaboration rather than competition is at the heart of food cooperatives and within the greater Bendigo region, which is a UNESCO City of Gastronomy, some farmers and artisans are starting to embrace cooperatives as a new kind of business model. "This is a perfect model for me," says Tim. "A cooperative like mine lets smaller producers make excellent quality wines in a friendly and supportive atmosphere. I love supporting small producers and small wine labels. It's a stripped-back, simple way of doing business."
Cooperatives certainly seem to be the way of the future for many food enterprises and for Katie Finlay, forming a cooperative was part of a succession plan. Katie and her husband Hugh are the pioneers of the Harcourt Organic Farming Co-op (HOFC), a group of diverse organic farmers who lease land on Katie and Hugh's farm in the foothills of Mount Alexander. "Hugh and I were trying to work out what we'd do with the farm as we got older," Katie says. "We came up with the idea of looking for new enterprises who could use part of the 30-hectare farm."
HOFC's current members are Tellurian Fruit Gardens, a certified organic fruit orchard; Gung Hoe Growers, who grow seasonal produce; Sellar Farmhouse Dairy, a micro-dairy, and Carr's Organic Fruit Tree Nursery, who graft, bud and sell heritage fruit trees. Katie and Hugh run Grow Great Fruit – a range of online courses about growing fruit.
"There are so many benefits to being part of a cooperative like this one," Katie says. "Our members are part of a strong community where one person's waste is another person's input." Any fallen fruit from the orchard goes to the cows, while some of the cow manure gets turned into compost and compost tea, and the cows are free to move through particular orchards eating weeds.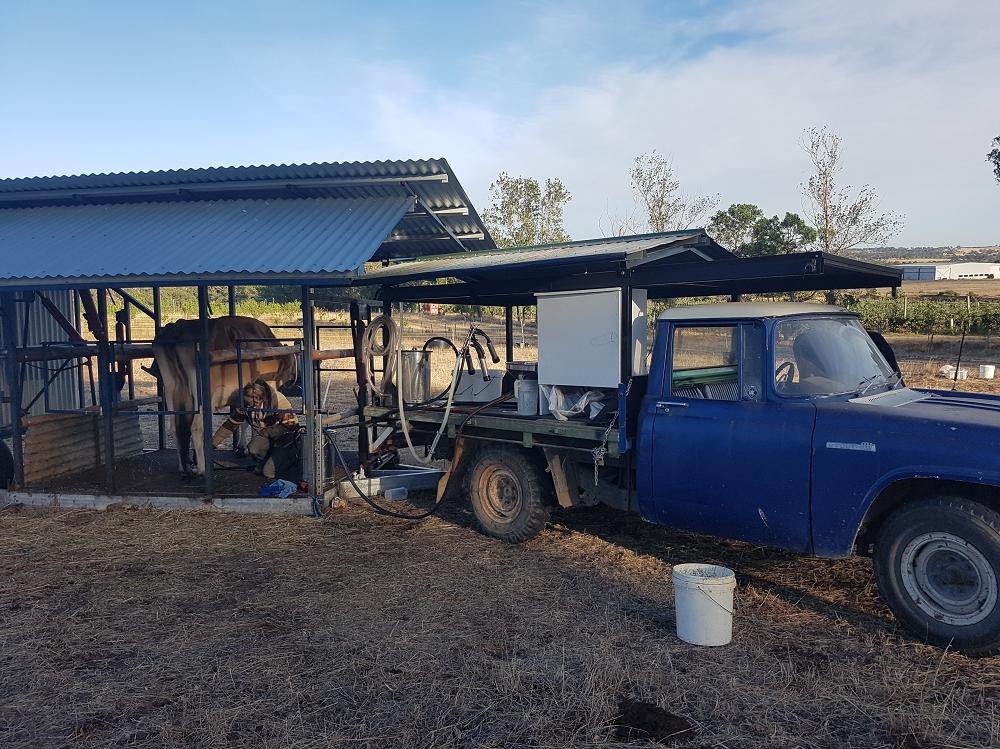 "This isn't a new thing," says Katie. "In fact, it's ancient. All farms were originally mixed farms and multi-enterprise, but in the modern world farmers often don't have the time or capacity to be multiskilled."
Cooperatives like this are about sharing – sharing land, resources and knowledge. And in this region, Katie says people are really interested in good food and food systems. "We want to sell what we produce locally," she says. "It's about setting up and re-establishing small, local food systems. We are so lucky to have a population who love knowing their farmers and who love their food. They really value what we have to offer."
Katie estimates that HOFC feeds around 200 families with milk, vegetables and fruit. But she isn't ready to hang up her hat just yet. The cooperative is looking for people who might want to become part of HOFC to grow berries or raise chickens. "Get in touch if you're interested!" Katie says with a laugh.
Words by Lindy Alexander