Ivan and Julie Larcher were expecting Australia to be hot and dry, and when they arrived in Harcourt in early March 2020 that probably seemed correct. But now it's June in Central Victoria, and I meet them on a freezing morning in Castlemaine, amidst the mud of a soaking wet building site. Since they made the move from France to Central Victoria three months ago, they've experienced a much wetter-than-usual Autumn and a very chilly start to our Winter…and on top of all that, Covid-19 lockdown with two small children and a business to get up and running.
Despite these challenges and unexpected hiccups along the way, Ivan and Julie are pressing on with their vision – which they share with Alison Lansley, secretary of the Australian Specialist Cheesemakers' Association. Alison is the one who – after a long association with Ivan that goes back to the School of Artisan Food in England in 2012 – enticed Ivan, Julie and their children to move from their farm in Chéniers, France to Harcourt, just down the road from the new artisan cheese school and cheesemaking facility being built at the Mill Complex in Castlemaine.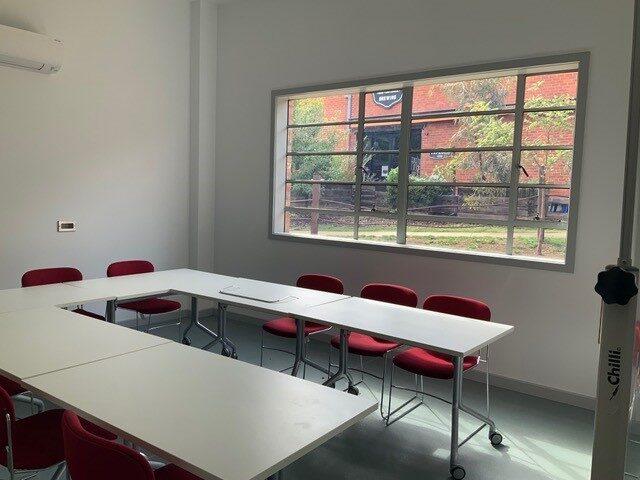 The Mill has almost every kind of artisan to keep you well fed, well-dressed and merry – with wine and beer makers, a smallgoods and fresh meat deli, bakery, fruit and veg shop, chocolatier, coffee roaster and café…and soon the missing piece: a cheesemaker. The new cheese school and production facility are well under way – after a few delays in sourcing the right kind of milk (now coming from a small herd near Kyabram) and getting the necessary equipment for production (which is not available in Australia and had to be shipped from Europe).
Once it's up and running, the Cheese School and the Long Paddock Cheese production business at the Mill will be the only enterprise of its kind in Australia. Although there are a number of very small-scale artisan cheesemakers across the country, and some very big commercial manufacturers, there is no one occupying the 'middle' scale of production: making high quality, artisan cheese and teaching in-depth courses to cheesemakers, cheesemongers and those just starting out. The purpose-built facility at the Mill will allow for production as well as sales – and Ivan even hopes eventually there will be a vending machine for those needing quality cheese, cream and butter outside business hours!
The new enterprise is also collaborating with the well-known Holy Goat Cheese – an organic farm in Sutton Grange where "growth is about sustainability, quality, generosity and compassion". The Holy Goat farm not only produces beautiful goats' cheese – from soft fresh cheese to rind ripened, washed rind and semi-hard – 30% of the farm has been set aside to maintain intact native grasses, wildflowers, shrubs and trees.
As so many of us find ourselves contained within our local areas, we have the chance to engage more deeply with our unique landscapes – and appreciate the diverse, quality products made in our local towns and villages. The new fromagerie and Cheese School will be just another feather in the cap of our already-thriving gastronomic region, celebrating the skills and creativity of our artisans, and continuing to build on a culture of local, sustainable, collaborative and delicious produce.
Find out more here: https://www.facebook.com/pages/category/Product-Service/The-Cheese-School-Castlemaine-101739281456094/