An increasing number of niche and artisanal food production businesses are opening up in the Loddon Shire, with some surprising crops being put to creative uses.
Just over five years ago, Melbourne chef Rosie and former naval engineer Drew decided to use their combined skills to pursue their dream of living off-grid in the wide-open spaces of regional Victoria. After purchasing a 10-acre property near Dunolly, the next step was to develop a business with low energy requirements around a crop that could be grown without pesticides or chemicals.
Squirrel Gully Saffron was born, with saffron chosen for its properties as a food product, as well as its low energy needs and suitability to the local climate of hot dry summers and cold winters.
Saffron is collected from the blossoms of the Crocus sativus corm and has only one harvest per year, in autumn. The delicate strands are carefully picked by hand and placed in a dehydrator for a few hours before being packaged on site and sent directly to consumers and commercial chefs. The company's sustainable ethos even extends to the 100% recycled paper labels on the jars – which can be returned and refilled by repeat customers.
Saffron is particularly known as an ingredient in paella, so chef Rosie has developed cook-at-home paella kits which are delivered complete with pan, rice, saffron, smoked paprika, local chorizo sausage and Rosie's recipe card. And, not content with only one line of production, Squirrel Gully is using the crocus crop in other creative ways, making natural dyes from the flowers to create beautiful silk scarves.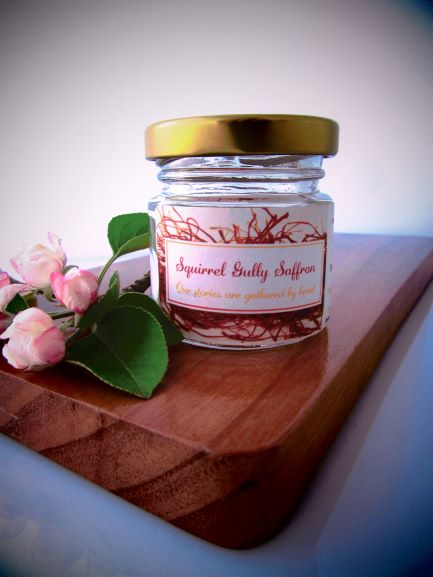 Meanwhile, on the outskirts of Wedderburn, you will find a farm where neat rows of prickly pear cactus bask in the sunshine alongside soft grey-green olive trees. This unlikely pairing (or pearing!) has led to one of the most innovative and fascinating agribusinesses found in north-west Victoria.
Chiron Organic was founded when Dr Natalie Alexopoulos, a medical research scientist specialising in reproductive technologies, was looking to purchase an olive farm to create her own range of natural remedies, and found one already planted with prickly pear.
The species of prickly pear used by Chiron Organic is Opuntia ficus-indica. Unlike other, more invasive varieties, the Opuntia ficus-indica is slow-growing and easily removed. The prickly pear can be eaten by livestock, uses water efficiently and also prevents soil erosion.
As a qualified naturopath and nutritionist, it didn't take long for Dr Alexopoulos to begin to appreciate the unique nutritional and healing qualities of the prickly pear. Her passion for scientific research, combined with the search for a toxin-free life, led her to develop a range of products from the plant.
The importance of the prickly pear cactus in nutrition and skincare has attracted world-wide attention, and Dr Alexopoulos is collaborating with the University of Canberra to study its nutritional benefits.
Chiron Organics products include chutneys, vinegar, cactus salsa and syrup and St Johns Wort tea, as well as an extensive range of skincare, soap and laundry products made from cactus and olive oil.
These businesses are just two more examples of the creative ways people in our region are adapting to the area, the climate, and the opportunities available. While Loddon is known for its large-scale agricultural production, it is increasingly being recognised for its smaller, niche and artisan produce – highlighting the creativity and diversity of our gastronomic region.